Programme 2016
25th July - Opening of the MKH project office | Vogtei 48

20th August 8–12 p.m. - Sommerhöfe (summer yards) | MKH project office | Vogtei 48

26th August 7 p.m. - Opening of the 2nd MKH Biennale at the Herrenhaus | Am Kloster 1

9th September 7:30 p.m. - Bilder einer Ausstellung (pictures of an exhibition)
Concert in cooperation with the Nordharzer Städtebundtheater (local theatre)

30th September 2 p.m. - Finissage
public guided tour with the curator Dr. Peter Funken
meeting point: Herrenhaus St. Burchardi | Am Kloster 1 | Halberstadt

afterwards coffee & cake & dj | finish of the II. MKH Biennale in the MKH office | Vogtei 48 | Halberstadt
Curator | Concept
Curator
Dr. Peter Funken (*1954 in Heinsberg) works as a curator, art journalist, lecturer, and coach in Berlin. He studied craft education, work science and German studies at Braunschweig University of Art and history of art and architecture at RWTH Aachen University.
Dissertation 1983: The machine in the 19th and 20th century. The depiction of technical and mechanical principles in the 19th and 20th century visual arts. With an excursus on the literary use of the technology metaphor since the Romantic period.

Selected exhibitions:
"MaschinenMenschen" (MachinePeople), Berlin 1989
"Polnische Avantgarde 1930-1990" (Polish Avantgarde 1930–1990), Berlin 1992/93
"Der Fleck in Geschichte und Gegenwart" (The stain in past and present), Berlin 1996
"Faktor Arbeit – über die Zukunft der Arbeit" (Factor work: About the future of work), Berlin, Dresden, and Kassel (dX) 1997/98
"Jetzt lächeln! Aspekte der Studiofotografie am Beispiel Mathesie" (Smile now! Aspects of studio photography on the example of the studio Mathesie), Berlin, Munich, and Hamburg 1998/99
"Dia, Slide, Transparency – eine Geschichte der Projektion" (Dia, Slide, Transparency – A history of projection), Berlin 2000
"Hannah Arendt Denkraum" (Hannah Arendt room for thought), Berlin and Halberstadt 2006/2008
"Selektion 09, Berlin – Ausstellung von 13 Absolventen der UDK Berlin und der HBK Braunschweig" (Selection 09, Berlin: Exhibition by 13 graduates of UDK Berlin and HBK Braunschweig), Berlin 2009
"Wunderkammer" (Cabinet of curiosities)—a German-Polish exhibition project with 24 artists from both countries, Szczecin (PO) and Berlin 2012

Curator of the contemporary art fairs "Berliner Liste" and "Kölner Liste" since 2013
"Art & Entertainment"—26th regional exhibition by the Künstlerbund Mecklenburg-Vorpommern, Neubrandenburg 2016
"Arme Sammler" ("Poor collectors" with A. Andreas Koch), Kubus, Bremen 2016

Numerous publications in:
Kunstforum-International
Artefaktum, Antwerpen
Artforum, New York
Neue Bildende Kunst, Berlin
Stadt+Grün, Hannover/Berlin
Der Hauptstadtbrief
Concept
"What will be… from now on?" by Dr. Peter Funken
We are planning a group exhibition with 13 artists from Germany, Belgium, Bulgaria, and Austria. The exhibition will deal with the future and its possibilities—also the future of art. The architecture, artworks and artefacts in Halberstadt represent more than a thousand years of European cultural history. From this viewpoint the exhibition will focus on our modern inability to think ahead, even for three years. What will be… from now on? That is the question. How do artists cope with this basic insecurity regarding the future? What are their answers to the resulting urgent questions?
John Cage's organ piece "As SLow aS Possible" that plays at St. Burchardi church since 2001 is the starting point and reference project for the MKH Biennale. With its claim to permanence and sustainability and the request to look, hear and think ahead—the piece is supposed to play for 639 years!—John Cage's composition asks about the responsibility to lead a civilized life; today and in the future. Art and artistic creation are an immanent part of this—as an individual attitude, as a form of behaviour and as a personal position. Cage's project → asks demanding questions: How do we want to live? How will we live? How do we want to treat one another? How do we want to care and act for ourselves and future generations? … from now on.
The artists nominated for the Biennale 2016 have very individually examined topics like time, future, present, space and responsibility in their artistic work to date. Thus, the exhibition will take up Cage's approach and his project in Halberstadt the way we experience it: as a work in progress and an open system. The artists that take part in the Biennale are asked to look into Cage's project, to evolve and develop it. This way, the exhibition wants to encourage a debate about the future and enable a central discourse: "Where do we come from? Where are we going?" We want to address and inspire young people and open a window towards the future.
With our visitor programme (e.g. guided tours, school projects) and a special briefing for exhibition staff, who will play a very active role, we want to convey the exhibition's insights to a broad public. Our goal is to raise awareness for questions regarding our future. Active public relations with an outward focus will promote the Biennale on a national and international level
Artists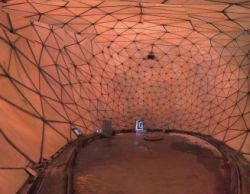 JULIANE DUDA
BERLIN
www.alphamaer.berlin.heimat.de
Photograph:

Fenster zur Welt (Window to the world), 2003
Ilfochrome on aludibond, acrylic glass mount, 77 x 60 cm
ROLAND ECKELT
BERLIN, WIESBADEN, BRANDENBURG
Photograph:

Zucht und Ordnung (Discipline and order), 2014
Film with and about the dog breeder Susanne Hüsgen from Baruth, Germany
Part of BARUTHOPIA
(Sponsored by the German Cultural Foundation)
TOBIAS HAUSER
BERLIN
Photograph:
Black Rain, 2009
Wood, Plexiglas
ALEXANDER KLUGE
MÜNCHEN
Photograph:
Auf der Decke tanzen (Dancing on the ceiling)
PETER PILZ | SILVIA LORENZ
EISENBERG, WIEN | BERLIN
Upper photograph:

Me and the Tree, 2013
Tree trunk, glass, steel, 3.5 m high
www.silvialorenz.wordpress.com
Lower photograph:

waterworld, 2013
Bottle caps, plastic panel, 2 m diameter
Installation view Dom Kulture, Cacak
PETER PUYPE
BRÜSSEL, GENT
Photograph:
No further details to date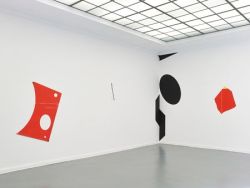 ERICH REUSCH
NEUENRADE
Photograph:
No further details to date
GERD ROHLING
BERLIN
Photograph:

From the series "Wasser und Wein" (Water and Wine), found plastic, assembled
Museu de Arte Moderna do Rio de Janeiro 1996
Biennale Venezia 2001
Neue Nationalgalerie Berlin 2003
Hamburger Bahnhof, Berlin 2010
LISA TIEMANN
BERLIN
Photograph:
Installation view "agreement series", 2014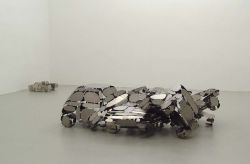 Places
ST. BURCHARDI CONVENT
HERRENHAUS | AM KLOSTER 1
Seat of the John-Cage-Orgelstiftung

Burchard of Nabburg built the St. Burchardi convent in 1050. It was used as a Cistercian nunnery for over 600 years. Partly destroyed during the Thirty Years' War, it was rebuilt in 1711 and secularized in 1810. For over 190 years the convent was used as a barn, shed, distillery, and pigsty. Johann-Peter Hinz rediscovered the Romanic church. With the support of the city and many private people St. Burchardi was renovated. A new roof, windows and general renovation works allow for the construction of bellows after the plans of the original Faber organ.
The residential building that was last used as a cholera hospital during the Wars of Liberation against Napoleon, burned down and was replaced by a grander manor house. In the late 1920s a stairwell was added at its north side. Round pan tiles were used during a major renovation in the late 1980s. Unfortunately, the old decorated sandstone chimneys are lost due to this construction work.
After the German reunification the city becomes interested in the former convent and estate.

Artists:
Juliane Duda, Roland Eckelt, Tobias Hauser, Peter Pilz, Gerd Rohling, Lisa Tiemann, Mariana Vassileva, Georg Zey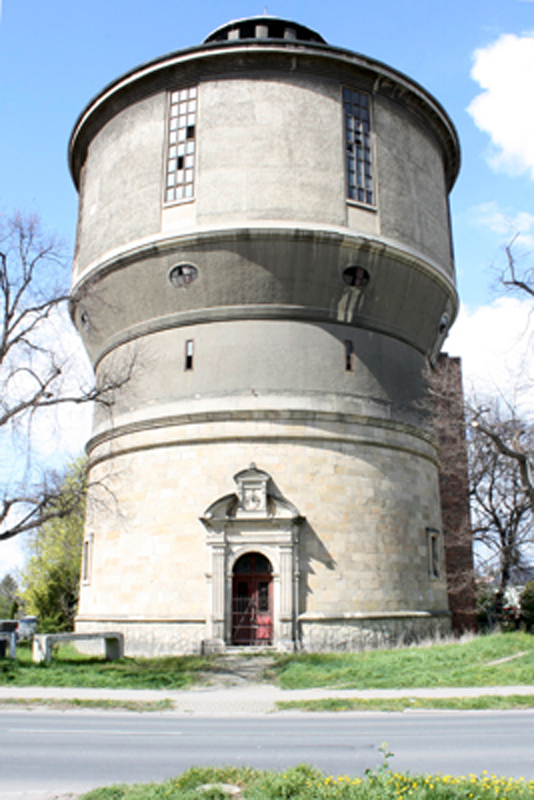 WATER TOWER
WERNIGERÖDER STRASSE
According to the inscription above the entrance, the water tower was built in 1881. It was originally designed for only one container. A steel construction was added to the roof later on, to house a second container.
The floor of the original 800 m³ container was folded to grant stability and allow for a further 15000 m³ of water. The water in the bigger container alone weighs 1500 t and thus demands careful structural engineering.
Artists:
Alexander Kluge
KLAUS SYNAGOUGE
ROSENWINKEL 18
Seat of the Moses-Mendelssohn-Akademie

The Klaus Synagogue was built in 1700. At that time, the Jewish community was small and scattered and religious education was hardly available.
Berend Lehmann (1661–1730), resident of Halberstadt and the Court Jew of August the Strong, took it upon himself to use his wealth and influence for the improvement of his religious community. With the consent of the landowners of the region and Frederick I, Lehmann had the Klaus Synagogue built, designating it specifically as a house of study. Here, three to four eminent scholars should study the Tora "forever".
The Klaus Synagogue was not damaged during the Reichsprogromnacht in 1938 . But as Jewish property it was Aryanised. After the war, the building was used to house refugees. Later it was turned into a paint brush factory and then a residential building. After the reunification of Germany, the Klaus Synagogue was turned over to the Jewish Claims Conference as a Jewish property to which there was no individual heir.
Thanks to private funding, the buildings were acquired for the Moses Mendelssohn Academy. After basic restoration, the Academy took possession of the buildings in 1998 and the former Klaus Synagogue was used once more for its original purpose: as a house of study.
Artists:
Erich Reusch

STREETS OF HALBERSTADT
HALBERSTADT
Apart from the three fix exhibition spaces, we will also use the streets of Halberstadt to present parts of the exhibition.
Artists:
Peter Puype
JOURNEY / ACCOMODATION / OPENING HOURS
Opening hours
exhibition

Thu - Sun 11 a.m. - 5 p.m.

office

Tue - Fri 10 a.m. - 2 p.m.

Sa - Sun 11 a.m. - 3 p.m.
By car
From Halle/Saale (A14) via B6 take B79 towards "Quedlinburg-Zentrum Halberstadt".
From Goslar (A7/A385) via B6 take B81 towards "Heimburg/Halberstadt".
From Magdeburg (A2) take B81 towards Halberstadt.
Parking
Day ticket for 6 € next to Sparkasse on "Domplatz"
Parking garage "Kühlingerstraße/Rathauspassagen" (4 € a day)
Free parking in "Düsterngraben" below Peterstreppe (might be full on weekdays)
Map of parking spaces for disabled people
Anreise mit dem Zug
HarzElbeExpress (from Magdeburg, Vienenburg and Halle)
HarzBerlinExpress (from Magdeburg and Berlin)
Deutsche Bahn AG (from Halle, Hannover and Goslar)
The tram stop is situated right next to the train station. Take line number 1 towards "Friedhof" and exit at "Holzmarkt" (city center) or "Gröperstraße" (old town).
Timetable Monday to Friday (every 15 minutes)
By coach
Accommodation
Halberstadt offers many different types of accommodation. You can use the homepage of the City of Halberstadt to find something suitable.
For example:
Hotel Abtshof

Single room from 44 €
Contact:
Abtshof 27A
38820 Halberstadt
www.hotelabtshof.de
0151 46456931
PHILOSOPHY
Monat_Kunst_Halberstadt e. V.
is a not-for-profit organisation dedicated to the following purposes:
Monat_Kunst_Halberstadt e.V. plans and stages the MKH Biennale, an international exhibition of contemporary art in Halberstadt, Germany.
The MKH Biennial is conceived as an on-going curated project with changing thematic priorities.
The association will decide on curator applications with a majority vote.
The MKH Biennial offers a platform for contemporary art. We want to raise the region's profile in the international art world.
We deliberately include non-traditional exhibition spaces in order to develop the whole city as a cultural space and to resuscitate unused sites.
The Biennale operates in the national and international context of art with no restrictions other than those resulting from the Biennale's theme.
The Biennale features artistic works from all media of contemporary art, e. g. performance, dance, painting, drawing, sculpture, graphics, video, theatre, music, and photography. We want to encourage public dialogue through events such as exhibitions, meetings, conventions, workshops, and study courses.
We understand the Biennale as an art event that may be taking place far from big cities, but nevertheless enables people to participate in a present without borders. The focus does not lie on the Halberstadt region or the cultural area Harz, but rather on the interrelation of global processes and regional developments.
DONATIONS
Donate and become part of a great idea!
Our donations account:
Monat_Kunst_Halberstadt e.V.
Reference: M_K_H_2016
Harzsparkasse
IBAN: DE91 8105 2000 0901 0288 27
BIC: NOLADE21HRZ
Thank you!
Support
Would you like to take part in our work and support us on a regular basis?
Become a support member and help us to develop our association and our idea of a Biennale in Halberstadt.
Download our application form (German) and statutes (German) herunterladen.
Thank you very much